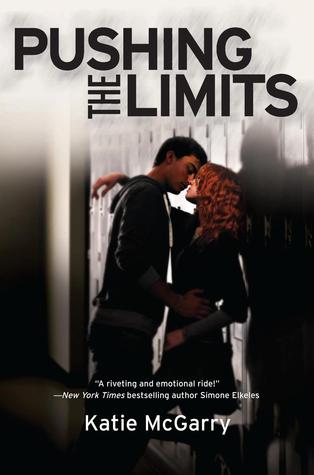 Title: Pushing the Limits
Author: Katie McGarry
Series: Pushing the Limits #1
Reading Level: Young Adult
Publisher: Harlequin Teen | July 31, 2012
Pages: 392

Add it: Goodreads

Buy it: Amazon
| Barnes & Noble | Book Depository | Books-A-Million

Synopsis:



So wrong for each other …and yet so right.

No one knows what happened the night Echo Emerson went from popular girl with jock boyfriend to gossiped-about outsider with "freaky" scars on her arms. Even Echo can't remember the whole truth of that horrible night. All she knows is that she wants everything to go back to normal.

But when Noah Hutchins, the smoking-hot, girl-using loner in the black leather jacket, explodes into her life with his tough attitude and surprising understanding, Echo's world shifts in ways she could never have imagined. They should have nothing in common. And with the secrets they both keep, being together is pretty much impossible.

Yet the crazy attraction between them refuses to go away. And Echo has to ask herself just how far they can push the limits and what she'll risk for the one guy who might teach her how to love again.

"A riveting and emotional ride!"—New York Times bestselling author Simone Elkeles

"McGarry details the sexy highs, the devastating lows and the real work it takes to build true love." —Jennifer Echols, author of Such a Rush

"An edgy romance that pulls you in and never lets go. I was hooked!"—Gena Showalter, New York Times bestselling author of Alice in Zombieland

"Pushing the Limits is an accomplished debut, a perfect choicefor readers who thrive on edgy, riveting storytelling." --Bookpage

"Real aches and real love in Katie McGarry's sensitive, complex, always surprising, really excellent first novel." -- School Library Journal
The Scene: Girl with traumatic past. Boy with troubled family life. Lots of teenage angsty drama and a hot romance make up Katie McGarry's debut novel.
The Girl: Echo Emerson is a girl with a past. She can't remember an incident she had with her mom and her only reminder are the scars that run up and down her arms. Echo has her issues but I think that's what really makes her so relatable. Katie McGarry really knows how to write characters that are engaging and stay with you even after you've finished the book.


The Boy(s): Noah Hutchins. Bad boy (tattoos, check. scars, check. hot bod, triple check). Fiercely protective. Smartass. And also a very sweet and loving guy to both his brothers and the girl he loves, Echo.
The WTF?!: Noah calling Echo his siren or nymph. Like really? Baby sounds waaay better.
The Buzz: Pushing the Limits has all the elements for a great young adult contemporary read. I love the realness of Katie's characters and the issues that are dealt with in the book. Echo and Noah are both characters that have lots of depth that is great to read about. I literally was sad to see this book end. Suffice it to say, Pushing the Limits definitely has the buzz factor going on.