What's up people! So, I'm rereading
Vampire Academy
in anticipation of the movie coming out February 7.
Yeah, that movie.
In case any of you haven't read VA here's the cover and synopsis.
St. Vladimir's Academy isn't just any boarding school—it's a hidden place where vampires are educated in the ways of magic and half-human teens train to protect them. Rose Hathaway is a Dhampir, a bodyguard for her best friend Lissa, a Moroi Vampire Princess. They've been on the run, but now they're being dragged back to St. Vladimir's—the very place where they're most in danger...

Rose and Lissa become enmeshed in forbidden romance, the Academy's ruthless social scene, and unspeakable nighttime rituals. But they must be careful lest the Strigoi—the world's fiercest and most dangerous vampires—make Lissa one of them forever.
Seriously, for those who haven't read VA:
GO. READ. IT.
I'm not kidding. Richelle Mead really did something here. I mean, it's my second favorite series. Of all time. Rose is one of the most kick ass female main characters out there. Just look at this poster. (I know it says the 14th but I couldn't find one with the changed date.)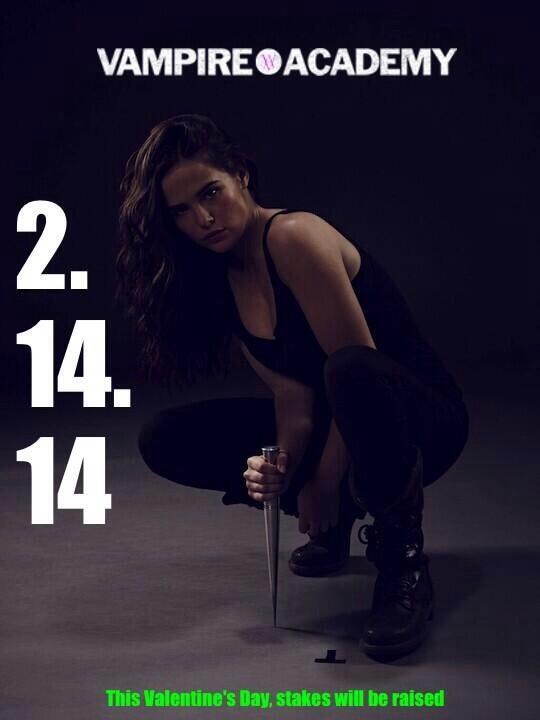 The whole world that Richelle built is awesome. I just love it.
Anyways, back to the movie. A lot of people are saying that the movie looks like a knockoff version of Mean Girls with vampires. I can kinda see where they coming from from the first trailer but even then, VA still looks like it's pretty true to the book. And Vampire Academy is nowhere near Mean Girls.
I think it just incorporates a lot of humor in the hopes of trying to gain a broader audience. But then I saw more of the trailers and it looks more like it captures the more darker tones of the book.
I also remembered that as the series goes on the content gets grittier and darker. I mean just look at Shadow Kiss. That ending was harsh.
Another thing is the clip with Christian lighting someone on fire. Literally. That was awesome.
Holy smokes! Hahaha!
I know I'm going to see Vampire Academy when it comes out! Just 7 more days! How about you? Are you guys going to see the movie? Do you think the trailers and clips live up to the book?
And now I'll leave you with this Christian Ozera cool fire gif thingy.