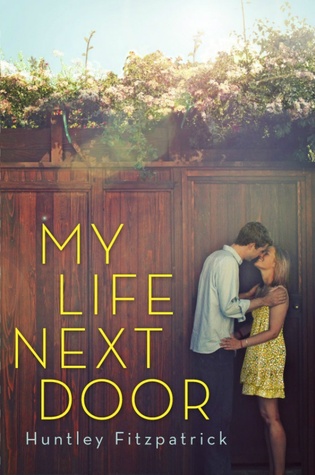 Title: My Life Next Door
Author: Huntley Fitzpatrick
Series: My Life Next Door #1
Reading Level: Young Adult
Publisher: Dial Books | June 14, 2012
Pages: 394

Add it: Goodreads

Buy it: Amazon
| Barnes & Noble | Book Depository | Books-A-Million

Synopsis:



"One thing my mother never knew, and would disapprove of most of all, was that I watched the Garretts. All the time."

The Garretts are everything the Reeds are not. Loud, messy, affectionate. And every day from her rooftop perch, Samantha Reed wishes she was one of them . . . until one summer evening, Jase Garrett climbs up next to her and changes everything.

As the two fall fiercely for each other, stumbling through the awkwardness and awesomeness of first love, Jase's family embraces Samantha - even as she keeps him a secret from her own. Then something unthinkable happens, and the bottom drops out of Samantha's world. She's suddenly faced with an impossible decision. Which perfect family will save her? Or is it time she saved herself?

A transporting debut about family, friendship, first romance, and how to be true to one person you love without betraying another.
The Scene: Small town off the coast of Connecticut. Girl lives next door to boy..AND his whole family of seven Garretts, four brothers and three sisters, whom girl's mother disapproves of. Throw in family problems, friendship, romance, summer, and you've got a great YA contemporary read.
The Girl: Samantha, our MC, is great. She has her stuff together, for the most part. I love that there's no over the top drama about Sam and she's there for her friends and family even when she messes up or lines blur. And of course, I loved her pondering and watching of the Garretts from her roof.
The Boy(s): Holy hell. This is what you call a book boyfriend. Jase is not like the typical stereotype that is so prominent in young adult literature today. He's not a cocky, arrogant ass that hides a heart of gold. What you see is what you get with Jase. He's a good guy; sweet, nice, hardworking, a good brother, athletic, and a helluva boyfriend to Samantha.
The WTF?!: Clay Tucker. Ick. Politics. Double Ick.
The Buzz: Everything about this book is great. From page one, it sucked me in and didn't let me go. Fitzpatrick wrote very relatable characters and a story that was realistic and compelling. I loved getting to know the Garretts and their crazy hectic lovable life. I loved seeing Samantha's relationship with Jase begin and grow. My Life Next Door is one of those books that keeps you reading late at night wanting more even after you finish it.